Wednesday, August 17 2022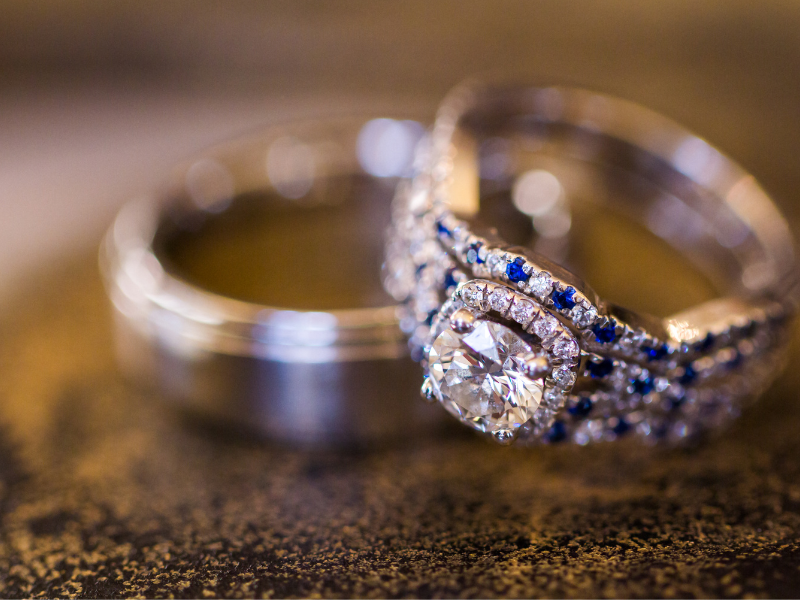 Getting married is an exciting time. It is also an expensive time as you and your families must plan for large events and a honeymoon. You want to find ways to save money without sacrificing your perfect day. Most couples overlook one of the biggest ways they can save money on their big day: their wedding ring. While wedding rings can be expensive, buying your rings from a pawn shop can save you hundreds or even thousands of dollars. To get the best ring for your money, our jewelry experts here at Cash Express have five tips you should follow when buying your ring at a pawn shop.
Discuss Your Ideal Type of Wedding Ring
Before you begin shopping for wedding rings, discuss with your partner what kind of rings you want. Are you looking for a perfect match between both of your rings? Do you prefer gold or silver? Are diamonds a must-have? Choosing the general characteristics that you want for your rings will help you choose the perfect wedding rings and avoid choice overload.
Research Rings and Prices
Before you begin shopping, do research on wedding rings and prices. Look at what wedding sets sell for in both jewelry stores and pawn shops in your area. This will give you an idea of what to expect in pricing. You should also research diamond cuts and karat weights for diamonds and gold to see how these affect pricing. This information will help you negotiate a good price later.
Take Your Time and Be Flexible
Don't rush into buying your jewelry. Take time to shop around and browse jewelry selections. Pawn shops have a wide selection of bridal jewelry, and they add to their selection on a regular basis. If you give yourself time to look, you will be able to find a piece you will fall in love with rather than feeling like you must settle for something. Remember to be flexible. You've discussed the kinds of jewelry you prefer but remember lots of styles can fit into those preferences.
Be Ready to Negotiate
One of the best things about buying jewelry from a pawn shop is your ability to negotiate the price. Pawn shops have some room to come down on pricing with you. Some of the tips already discussed will help you in your negotiations, such as researching price and ring characteristics. Another way to gain negotiating leverage is to be willing and ready to pay cash for your wedding rings. Pawn shops are often willing to drop prices when you pay cash because they, in turn, avoid processing fees.
Bring Pawnable Items
Once you settle on a price for your perfect wedding ring, you can further lower the price you have to pay by trading in other pawnable items. Jewelry is always best to bring in for trade, but that's not the only thing pawn shops are ready to buy. If you have electronics, leather items, power tools, or fine collectibles, you can bring those in as well to help pay for your wedding rings.
Are You Looking for a Wedding Ring in Philadelphia?
Stop by or contact us today. We're here, serving Philadelphia and surrounding areas.