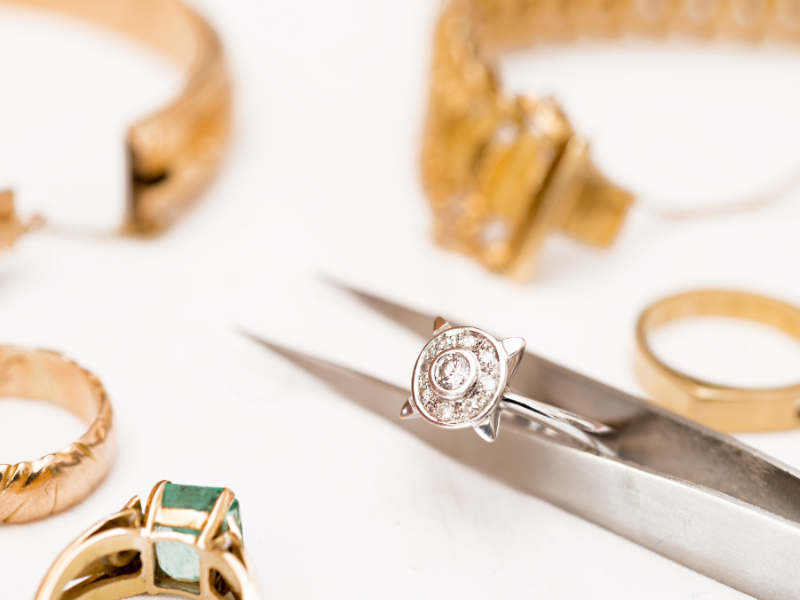 Whether you're looking for an engagement ring, a nice necklace to wear for an event, or a new piece for your jewelry box, if you're not already including a pawn shop in your search – first, hello and welcome! Second, we have four key reasons why you should buy your next piece of jewelry from a pawn shop. We even have a few fast tips to ensure you get the best value on that purchase.
Pawn Shops Are an Affordable Option to Jewelry Stores
Quality jewelry is expensive. Purchasing an engagement ring from a jewelry store will cost you upwards of thousands of dollars. Diamond and other precious stone jewelry can be just as expensive depending on the purity of gold and size of the gems you're looking for. Pawnshops, however, offer you the same quality of jewelry at a fraction of the cost. How? By offering you pre-owned jewelry. At Cash Express Ark Jewelry, we inspect all jewelry we bring in to ensure that the quality you purchase from us will meet and exceed your expectations.
Pawn Shops Guarantee Authenticity
When people bring their jewelry in to Ark Jewelry, we authenticate what they offer to sell us. Is the gold the karat weight they said it is? Are the gemstones real? Does "limited edition" piece include its certificate of authenticity? Before our jewelry goes into the sales case, we ensure it's the quality you expect from us.
Pawn Shops Offer a Wide and Varied Selection
When you browse a pawn shop's jewelry selection, you're experiencing something unique. Pawn shops don't offer whatever a corporation has decided is fashionable for that season. Instead, the offer the jewelry sold to them by individuals, jewelry that can be as new as the jewelry you'll find now in stores or from decades ago.
Pawn Shops Offer Consumers Versatility
In addition to the affordability and selection, pawn shops offer versatility in how you pay for your new jewelry. You could just come, find that ideal ring, necklace, or watch, and pay for your new jewelry outright. Or you could bring in your own old jewelry, electronics, or other pawn-ready items to pawn or sell to pay for your new jewelry. You can even buy that nice bracelet you have your eye on now and use it as collateral for a loan later if you find yourself in a pinch for cash.
Get the Best Deal in Your Jewelry Purchase
Now that you know why you should purchase your next jewelry item from a pawn shop, how do you ensure you get the best deal?
Research the pawn shops in your area to guarantee you will get the best selection and service. Talk to your friends or coworkers who use pawn shops. Look at reviews.
Come in ready to negotiate a price. Most pawn shops allow some negotiation in pricing.
Think outside the box about what you are looking for. Because pawn shops have such a wide variety of jewelry, you'll be happier (and possibly save a little more) if you come in with an idea of what you want but are willing to browse.
Are You Looking for Jewelry in Philadelphia?
Stop by or contact us today. We're here, serving Philadelphia and surrounding areas.