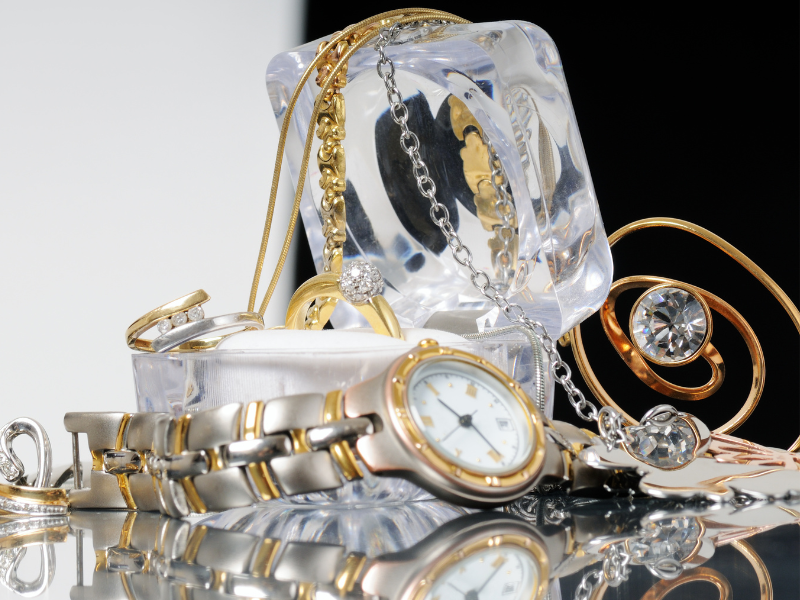 Have you managed to collect jewelry over the years? Perhaps your engagement ring isn't so sentimental now that you've divorced. Even inherited jewelry doesn't always hold emotional weight, especially if the style doesn't suit your tastes. If you have jewelry that you don't wear anymore, why not put it to use for some extra cash? Let's look at some of our most pawned jewelry and compare them with your jewelry box.
Precious Metals
Gold, silver, and platinum jewelry are always in high demand. You may consider your solid gold bracelet, silver rope chain, or platinum hoops to be plain. We consider them to be the bedrock of jewelry.
Diamonds
Diamonds never go out of style. With a seemingly limitless number of setting designs, diamonds offer variety and beauty. Their ubiquity makes them one of the most common types of jewelry people bring to pawn shops. Their popularity keeps them in high demand for people coming in looking for a good bargain. Some standout perennial pieces include,
Engagement and wedding rings
Tennis bracelets
Earrings
Other Precious Stones
Don't let the popularity of diamonds shy you away from bringing in other precious stones. Rubies, emeralds, and birthstones are popular choices for pawning – and wonderful finds for people looking for something unique.
Watches
When you're considering your jewelry collection, don't overlook your watches. A working timepiece is a popular choice for pawning. Whether it's a Rolex, a Timex, an ornamental watch, a pocket watch, or a watch pendant, bring it in and let us have a look.
Antique and Collection Items
Beautiful, valuable, and full of history, antique and collection pieces are another popular choice for pawning. These pieces are unique, sometimes created in limited numbers making them hard to find.
Should I Sell or Pawn My Jewelry?
The answer to that question is uniquely personal. Some people choose to sell their jewelry outright, especially pieces they know they won't ever wear again – such as previous wedding or engagement pieces. However, if you're just needing fast cash and know you'll be able to pay back the loan on time, pawning may be better for you. You will be able to reclaim your jewelry, so you'll have it to wear in the future – or have it for collateral again just in case.
Before you decide to sell or pawn, as yourself these questions,
What does this piece mean to me?
Do I feel good about selling it?
Is it a piece I could pawn again if I need a fast loan?
If you are going to pawn jewelry and want to ensure you can pay your loan back and reclaim it, remember,
Consider your budget carefully to make sure you can repay your loan
Only borrow as much as you absolutely need – just because you can borrow more doesn't mean you should
Set aside money as you get it for repaying your loan – this will also help you build saving habits
Do You Need Extra Cash in Philadelphia?
If you have jewelry that you no longer wear, we're here. If you have questions, contact us today or drop by and we'll help you walk out with cash.