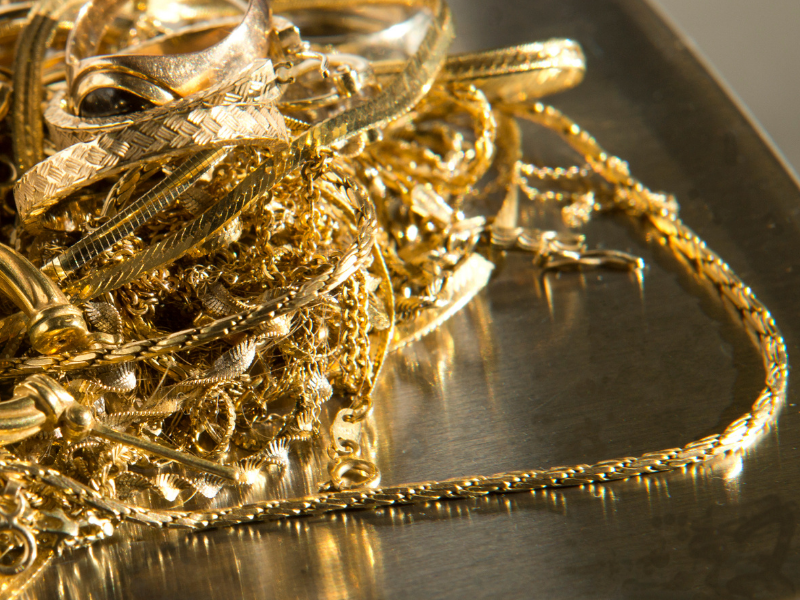 Do you have gold jewelry that you don't wear anymore? Maybe you inherited gold coins or jewelry that you don't need. If you want to put unwanted or unneeded gold to use for you, a pawn shop is a good option. You can sell your gold for cash right away, perfect if you need extra money for a rainy day or something unexpected. If you're planning to sell your gold to a pawn shop, here are our tips to help you get the best money for your gold.
Know the Karat of Your Gold
If you have gold jewelry, you can usually find the karat marking on the inside band for rings and solid pieces and the inside clasp for bracelets and necklaces. Karat is indicated with a K (for example, 10K or 16K) Karat determines the purity of your gold, important in determining the value.
Know the Weight of Your Gold
Before you take your gold to the pawn shop, make sure that you weigh it. A kitchen scale is perfect for measuring your gold jewelry since it is sensitive and designed to weigh small items. Make sure that you have it set to grams so that you can easily convert the weight to pennyweight (standard jewel scale) if necessary.
Separate Your Gold by Karat
When you put your gold together to bring to the pawn shop, make sure that you separate it out by karat. You'll ensure you get a fair price for your gold since the value will be based on karat and weight.
Clean Your Jewelry – Don't Polish It
While you want your gold to make a good impression, don't polish it before you bring it to the pawn shop. Instead, clean it gently with a damp cloth to remove dirt and dust. Polish can remove gold, especially from jewelry, resulting in a loss of value.
Look Up the Market Value
You've done a lot of work so far to ensure you get a good price for your gold. You should do three more steps, though, to get the best price you can. The first of these last three steps is to look up what your gold is worth. While a pawn shop will not pay you the full market value (they have to be able to sell and make money too) you can still ensure a fair price with knowledge.
Get Prices Before You Sell
The second of the final three steps is simple: shop around. Go to a few different area stores and let them make offers before you choose the pawn shop you want. Getting different offers will let you know what the value of your gold is in your area and will arm you in negotiating once you're in the shop to sell.
Go to a Licensed and Reputable Pawn Shop
The final step is to choose a licensed and reputable pawn shop. Check reviews. Look into their licensure. Do your research on the shop. A good pawn shop will be reflected in their business practices and their reviews.
Do you need extra funds for an emergency? Do you just want some extra cash? If you have gold or jewelry you'd like to sell, contact us or stop by today. We're here, serving Philadelphia and the surrounding areas.