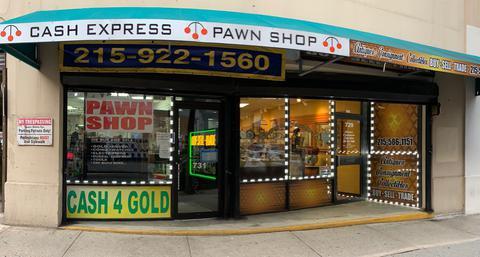 When the lockdown orders first came around, the government mandated that everything but essential businesses close. Only places such as grocery stores, healthcare facilities, and banks could remain open. These types of businesses were deemed necessary to sustain life.
However, pawn shops like Cash Express haven't been forced to close. They've been designated as essential businesses in Philadelphia.
We understand why many would be curious as to why pawn shops remain open. People don't "need" most of the items that pawn shops offer in an emergency, do they?
Well, there's one thing that they do provide that makes them essential.
The Answer: Why is Cash Express Pawn Shop an Essential Business?
Pawn shops are considered essential because, like banks, pawn shops provide financing. In Pennsylvania, they are licensed and regulated by the Department of Banking and Securities. Because of this licensing, Cash Express and other pawn shops are considered essential.
Thanks to pawn loans, people can leverage their possessions to obtain the cash they need fast. This is especially true for the financially vulnerable — those with few assets, little cash, and bad credit will have a tough time getting loans from banks and other lenders.
Even if they get approved for a loan, the entire process can take days. Many can't afford to wait days.
Plus, if they fail to pay back the loan on time, they'll owe fees and interest. This can damage their credit further and put them in a deeper financial hole.
With a pawn loan, the worst that can happen is they lose their item. Pawn loans don't require credit checks or cause damage if the loan isn't paid back.
Many needed their pawn loans temporarily while they waited for their stimulus check. They were able to pay back their loan a week or two later after their stimulus money arrived and retrieve the pawned item.
As for safety, many pawn brokers instituted measures to keep people at a safe distance, such as drive-up windows.
Nonessential Ways Pawn Shops Benefit Customers
Pawn shops help in nonessential ways, too.
People who have been putting off decluttering for a while suddenly have time on their hands. They can come in and sell off their old stuff and pad their bank account in these uncertain times — all while cleaning their house.
People are buying things from pawn shops to cope with boredom and isolation, too. Many have bought computers and video games/consoles to fill the time and keep in touch with friends/family. Others are picking up at-home hobbies, such as guitar. Guitars are a popular pawn shop item, so when guitar stores are closed, aspiring musicians go to pawn shops.
We understand that times are tough. Cash Express Pawn Shop in Philadelphia can get you the money you need in as little as a day. Your pawn loan won't hurt your credit. If you need cash, bring your item in today.