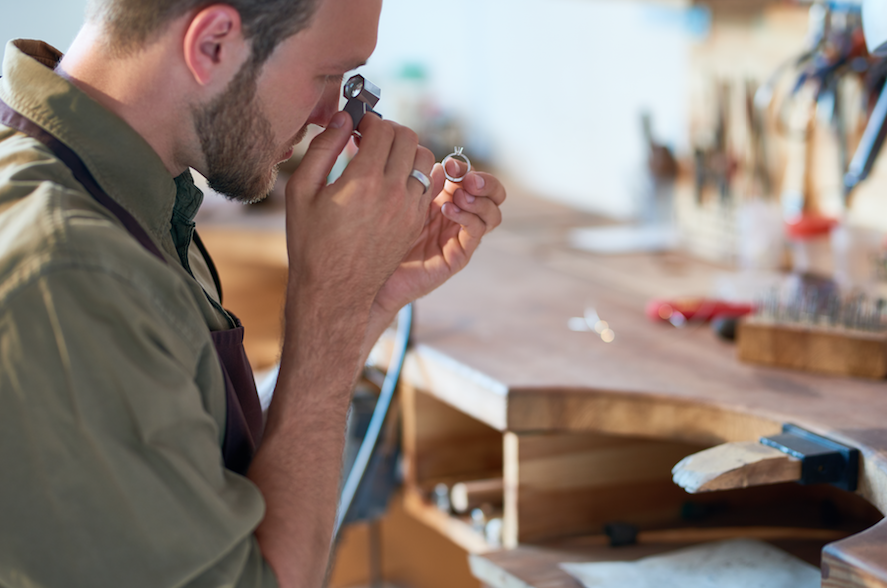 Diamonds are beautiful and valuable — making them the perfect target for people who want to make fakes for profit.
Fortunately, there are some tests you can run to see if a diamond is real or fake. They can be done at home and cost you a few bucks at most.
None of these tests are conclusive, but failing several of these tests is a strong indicator that you should get a diamond test kit or bring the piece to a gemologist to learn the truth.
The Loupe Test
A loupe is a magnifying glass used by jewelers to see the fine details of jewelry. Since diamonds form in nature, there are bound to be imperfections. A perfect diamond is likely fake.
This isn't always the case, though — you may stumble across a real, perfect diamond. Lab-created diamonds are also generally flawless, yet they're real.
However, the loupe test can still indicate that further inspection is required.
The Black Light Test
Another initial screening test you can run is the black light test. Turn off all the lights and shine a black light on your diamond. You should see a bluish fluorescence. Green, yellow, and other colors could indicate a fake.
The Heat Test
Diamonds are incredibly strong. High heat will not damage them.
To perform the heat test, fill a glass with cold water. Using plyers or fireproof gloves, heat your diamond with a lighter for about a minute, then promptly drop your stone into cold water. A fake diamond will shatter, as its components will not be able to stand the rapid expansion and contraction of heat.
The Water Test
If the heating element of the heat test makes you uncomfortable, you can still use the other half of the test to determine if your diamond is real. When dropped in water, a diamond's high density will cause it to sink to the bottom.
If your diamond floats, however, then it isn't a diamond at all.
The Fog Test
The fog test uses condensation to determine diamond authenticity. Condensation doesn't stick to the surface of a real diamond.
All you have to do is hold the diamond in front of your mouth and breathe on it as if you were trying to fog up a mirror. If the condensation immediately disperses, the diamond is real. If not, it's fake.
The Sandpaper Test
Again, diamonds are made of tough material. It's quite hard to scratch them.
Scratch the stone in question with sandpaper. Scratches indicate your diamond is actually something else, whereas no damage indicates authenticity.
Did your diamond pass this battery of tests? You can fetch a pretty penny by pawning it. If you're looking for a pawn shop in Philadelphia, stop by Cash Express. We love diamonds and jewelry here — we'll get you a fair price for your piece and have the money in your hands the same day.